This series is a beginner's guide to SEO content writing. I'll be covering everything from choosing topics to SEO content for lead generation. No matter where you are in your content marketing journey, I hope you can find something helpful here. This time, I'm talking about all of the fiddly behind the scenes content.
What are meta descriptions?
Meta descriptions are the short bit of copy that shows up in Google (and other search engine) results under the title. Any bits of content in bold (as shown in the image) are the bits of the meta description that coincide with the search term.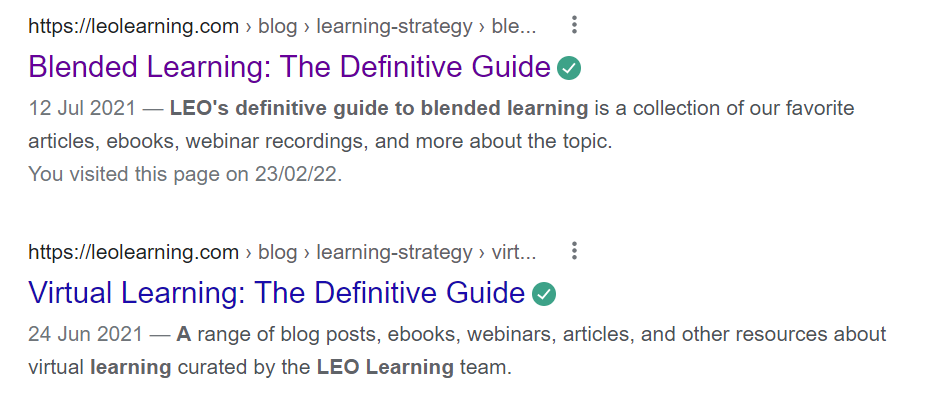 Search results for "LEO Learning blended learning definitive guide" *
*Note – this website is no longer live due to a merger with another company.
What are meta titles?
The meta title, quite simply, is the title that the description is listed under. Often, by default, it is the same as the title of the page it comes from. However, they can be edited to be tailored more towards the keywords you are targeting.
Why are meta titles and meta descriptions important for SEO?
Meta descriptions and meta titles signal to Google (and other search engines – I know Bing is a thing but not many people use it, so I feel the need to add "and other search engines"). You'll see it here a lot) what your content is about.
They tie together with H1s and other headings as well as content structure and other elements to say "hey, Google (and other search engines)! This blog is about SEO content" (or blended learning, or B2B marketing, or eco-friendly shipping bags, or plastic-free shampoo bar. You catch my drift).
On top of signalling Google, this metadata is also the first insight people will get into your blog, website, or product page. This is the two-second first impression you get to make to convince people that your page is the one they need.
So, you know, no pressure.
What else are meta descriptions and titles used for?
In some website platforms, meta descriptions will also pop up when your posts are shared on social media. In others, you will need to enter these separately, so make sure to check. They will display differently on different platforms.
On LinkedIn for example, only the title will display, along with the featured image (sometimes also known as the Open Graph image).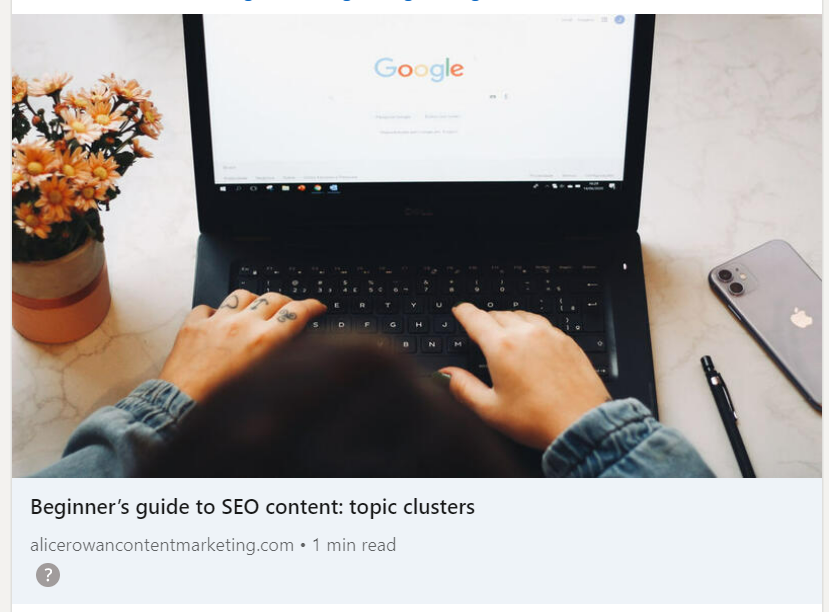 LinkedIn preview for my previous ,blog post about topic clusters
On Twitter, the title and the first 140 characters of your meta description of social except will display, along with the featured image.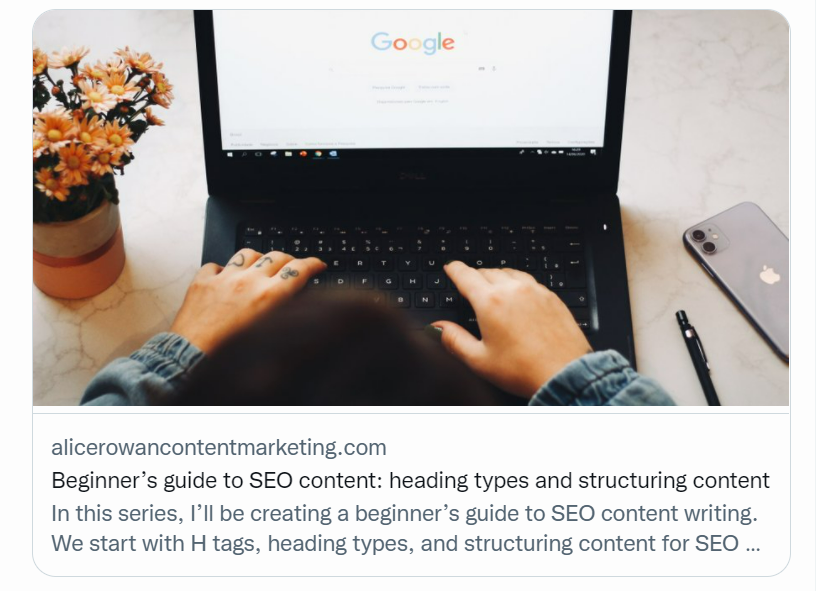 Twitter preview for the same blog post
How do I write a meta description?
Here are some things you need to know about meta descriptions:
Best practice is to keep them between 70 and 155 characters
155 characters will display on Google
140 characters will display in a Twitter preview
Include the keywords or phrases you are targeting in both the title and the first half of the description
Finish it off with a call to action "click here to find out more" "read more here" "book your place" etc.
What about alt text and image captions?
Other hidden bits of content that aren't always considered are alt text and captions for images. These are important for a few reasons.
The most important one for your audience is accessibility. This allows people who are using screen readers or who are lacking internet connection to understand what is in the images.
The alt text also helps Google to read what is in the images (I'm sure you'll see a running theme here). On top of this, image descriptions and titles can also help you to appear on Google image searches, which is of course another way to boost your rankings and SEO.
Need a hand tightening up your SEO content? Or want someone to check what you're missing? Grab a cuppa and let's have a chat.
Want to hear about this stuff more regularly? Sign up to my newsletter